Help us celebrate 20 years at this award winning venue with our magical weekend, with dancing, yoga, home-made organic vegetarian food, luxurious accommodation in beautiful surroundings. This is an opportunity to learn salsa and Latin social dancing in a small LGBTQ+ friendly group. If you're a beginner, don't worry, we'll show you the steps. If you're an experienced dancer, we'll challenge you with new dances and techniques! Anyone can lead or follow, and you don't need to bring a partner unless you want to. The yoga is especially tailored for the dancing body and no previous experience of yoga is needed.
All good things come to an end and next year our hosts are moving on to other projects, which means this will be the LAST EVER salsa and yoga weekend at this gorgeous venue. Places are limited and we're expecting that there will be high demand so don't miss out!
We can't wait to welcome you to Over the Rainbow Wales!
Dance workshops led by Norma Daykin. Yoga sessions led by Sarah Waterfield are interspersed throughout the programme to invigorate and relax your body and mind, keeping you light and refreshed and ensuring you get the most out of the weekend.
• All classes led by experienced, qualified teachers
• Everyone welcome, including same sex dance partners
• Wooden dance floor, excellent vegetarian & vegan food and sumptuous, award winning accommodation
Costs
Residential: (NOW FULL – ONLY NON RESIDENTIAL PLACES AVAILABLE)
Fri – Sun, all classes, party and full board shared room £330  (Campervan £280 (limited spaces)
Deposit: £100pp reserves your place, closing date for booking 10th April.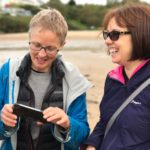 Non-residential: 
Full Weekend programme, lunch & evening meals: £210
Saturday full day – Lunch, Dinner, All Workshops, Party (£105)
Saturday Daytime only, Lunch & Day Workshops (£75)
Saturday Night Dinner & Dance Party (£30)
Saturday Night Dance Party (£10)
Non-Res Deposit: £50pp reserves your place.
Booking Form to follow
Cancellations: You are strongly advised to take out holiday insurance for this weekend event. 
Deposits are non refundable – and are due by 10th April. Places will not be reserved without a deposit.
Bookings for Residential places will close as soon as we reach capacity or 10th April whichever is sooner.
Balances are due by Tuesday 15th August 2023.
If the event has to be cancelled due to Covid restrictions, full refunds will be made.
For further information contact Marie 01239 811 155
Join our Facebook group for updates! (Salsa & Yoga @ Over the Rainbow)