Rescheduled for 13-15th May 2022
Now in its seventh successful year, a unique weekend of salsa dance and yoga, with delicious vegetarian food and award  winning accommodation in our beautiful West Wales setting.
Why not treat yourself to an unforgettable weekend, or simply join us for the day or for our Saturday night dinner and dance party? A rare opportunity to learn in a small, friendly group with experienced, qualified teachers.
Dance workshops led by Norma Daykin include Cuban and cross body styles as well as bachata and cha cha cha. For absolute beginners as well as improvers and advanced dancers. No partner is needed, everyone is welcome.
Yoga sessions led by Sarah Waterfield are interspersed throughout the programme to invigorate and relax your body and mind,  keeping you light and refreshed and ensuring you get the most out of the weekend. Yoga sessions are suitable for all levels of yoga experience including complete beginners
• All classes led by experienced, qualified teachers
• Everyone welcome, including same sex dance partners
• Wooden dance floor, excellent vegetarian & vegan food and sumptuous, award winning accommodation
Costs
Residential:
Fri – Sun, all classes, party and full board shared room £270
Fri – Sun, all classes, party and full board Campervan £215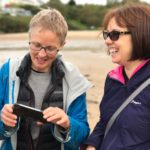 Non-residential: (schedule may be subject to changes)
Sat & Sun, all classes, party and lunches: £160
Saturday classes and lunch: £60
Saturday evening dinner, class and party: £30
Saturday evening class and party: £10
For further information contact Marie 01239 811 155
Join our Facebook group for updates! (Salsa & Yoga @ Over the Rainbow)