We grow a variety of soft fruits in our Walled Garden as well as unusual salads, herbs and vegetables in our polytunnel. Our guests enjoy home made preserves and seasonal produce from plot to plate.  All our produce is grown pesticide free, the soil fed by our own compost, our neighbouring farm manure, and an experimental compost mix of coffee grounds, wood ash and grass clippings!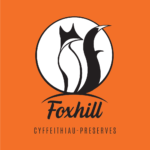 Foxhill preserves are hand-made using traditional small batch methods. In our dedicated preserves kitchen 'The Pickle Palace' we make many varieties of Chutney, Jams, Jelly, Marmalade, Salsa and seasonal cordials. We also produce our own fresh Apple Juice from the Walled Garden orchard. Contact us for a list of our Preserves.
Thanks to our volunteers and to Ayesha from TyRhos Trees, we have planted a large variety of soft fruit in the walled garden: Blackcurrants, Blueberry, Boysenberry, Honeyberry, Jostaberry, Loganberry, Raspberry, Redcurrants, Rhubarb, Wineberry, as well as fruit trees: Bardsey Apple, Damson, Greengage, Medlar, Mirabelle, Mulberry, Snowdonia Pear, St Dogmaels Apple.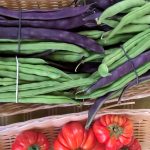 Veg seeds are mostly sourced from Pembrokeshire's Real Seed company, The Organic Catalogue and some from Bakers Creek. Seedlings, onion sets and seed potatoes from Trefhedyn Garden Centre in Newcastle Emlyn.
Maintenance of the gardens and polytunnel is a huge task, but thanks to our hardworking band of volunteers, we manage to keep the gardens  productive and in good heart. Get in touch if you are interested in joining us on one of the volunteer weekends, usually held in spring and autumn.